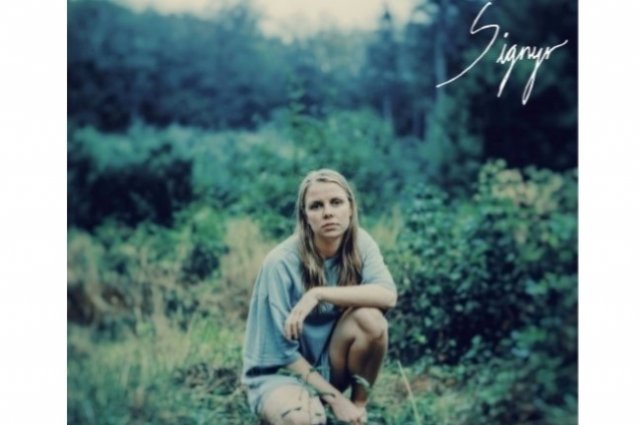 Signyr EP-debuterer stilsikkert med kølig melankoli på Too Young To Hold On. 
Too Young To Hold On er Aarhus-baserede Signyr's debut-EP, og det er ikke sådan lige til at høre. Signyr har nemlig en ret tydelig musikalsk identitet og universet virker gennemtænkt og gennemarbejdet.
Tonen er støvet og melankolsk, og i følge pressematerialet er EP'en "et opgør med idealet om tosomheden og stræber i stedet efter ensomhedens eftertænksomhed, og følelsen af at være for ung til at holde fast i en fortabt kærlighed". Den beskrivelse er genkendelig i titlerne, eksempelvis på åbneren 'You'll Leave'. Her åbnes der med tænksomme synths, hvorefter Signyr's vokal spørger: "What will happen with us/If I open up my heart?". Selv om der er en rolig musikalsk puls som nummeret udvikler sig og bas, trommer og guitar bygges på, er der også drama i Signyr's vokal, der er ganske ekspressiv.
Således også på 'Drunken Reality', hvor pulserende bas og trommer flettes ind i synths, mens Signyr's vokal afspejler en sårbarhed og et ønske om at beskytte sig selv mod skuffelse. Musikalsk er tempoet som regel dvælende, selv om trommerne tilføjer dynamik, også på 'Wait', hvor Signyr indstiller sig på at vente på kærligheden og beder den anden om også at vente et udefinerbart sted ude i fremtiden.
Det klæder lyden når bas og guitar får lov at komme frem i lydbilledet, som for eksempel på indledningen til 'I'm Alone', hvor omkvædet til gengæld pakkes ind i synths. Det gør Signyr's musikalske udtryk både æterisk og jordbundent, der er både luftighed og substans til stede.
Synthsene er mere jordbundne på 'Winter', som dvælende melankolsk afslutter Too Young To Hold On. Her konstaterer Signyr at der flyder stille tårer ud på hendes pudebetræk, og "The summer days are gone/And I'm getting/Weak". Ganske passende fader nummeret ligesom bare ud, uden et peak.
Too Young To Hold On er et stilsikkert udspil fra Signyr, der viser en ganske moden musikalsk profil. Lyrisk afspejler det den ungdommelige kærligheds store udsving, her med fokus på dalene i kærligheden, tabet, følelsen af udsigtsløshed, uden det føles som for meget. Det er meget stemningerne og Signyr's vokal, der bærer EP'en, og jeg kunne godt ønske mig flere hooks, måske også mere kant. Men samlet set er det mere end solidt, og tegner godt for fremtiden for Signyr.
Anmeldt af Jonas Strandholdt Bach