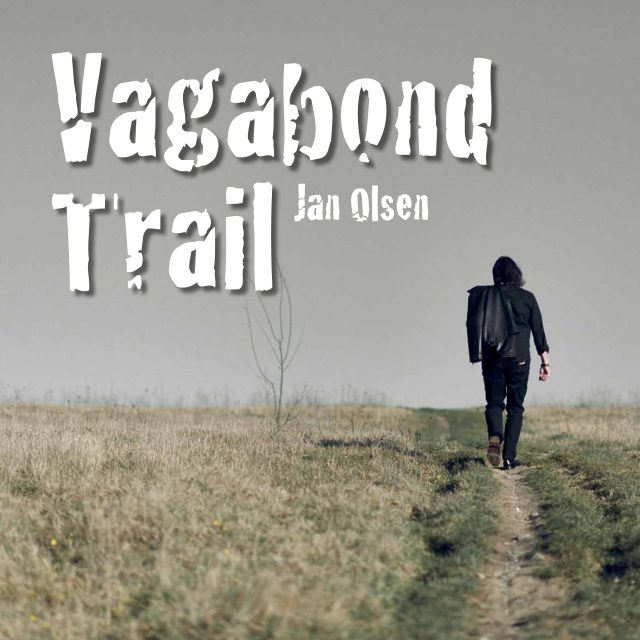 Aldrende blues/rock-musiker med grødet stemme og tekster om hjemløse? Måske ikke dét, verden har råbt på, men Jan Olsens Vagabond Trail undgår at blive forfærdelig og leverer et romantisk blik på vejens forskellige folk.
Skræller vi de synlige ting, som villa, vovse og Volvo væk, hvad er der så tilbage til at gøre sig lykkelig? Det kunne være et muligt tema på Jan Olsens EP, Vagabond Trail.
For på naiv – og stærkt romantisk – vis beskrives over fem numre forskellige af vejens folk: vagabonden, den hjemløse og den omrejsende musiker. Og det handler om kærlighed til naturen, det korte, romantiske forhold og en fest hvor stedet (næsten) er underordnet. Og her svinger jeg mig lidt op, for i virkeligheden er det hele lidt banalt.
Der spilles fint. Især tangenterne står skarpt og flere gange kommer et orgel ind og lægger en lækker figur. Subtile kvindekor. Eller som i Northern Blues, hvor en akustisk/elektrisk guitarsolo rammer en sprød, ramponeret lyd. Lækkert!
Men vi kommer ikke ud over, at Jan Olsen bedst kan betegnes som en Tom Waits light. Måske er der en målgruppe for folk, der synes at Tom Waits er for kradst? I så fald er det nok dér, Olsen finder sine fans. Men her er alt, hvad der gør Waits godt også skåret væk: kanten, de skæve metaforer og malerisk billedsprog.
Ret beset bliver 'Northern Blues' det bedste nummer i kraft af at det i så høj grad minder om Waits. Beskrivelser af nordlys, jærvens trav og jævndøgn passer meget fint til den 12-taktersblues, det egentlig bare er.
Det er som sådan også fint.
De fire øvrige numre er lidt lettere i kvaliteten og 'Party On The Pier handler' vist bare om lidt flygtig romantik (!) på en mole, titelnummeret er en romantisering af vagabondens liv og afslutteren, 'Wandering Musician' måske bliver selvbiografisk. Eller måske nærmere: Ønsket om en selvbiografi, da refrænet slutter med "Rest your bones / You old wandering musician / Most of all / welcome back". Hm. Ja, jo, det er da fint nok.
Sagen er, at der spilles fint, æstetikken hænger sammen og temaet med folk-på-vejen har en vis rød tråd igennem værket. Så det er ikke en dårlig EP. Relevansen er dog svær at få øje på, og når det bedste nummer sender meget direkte tanker i retning af Tom Waits, er det svært at se, hvorfor man ikke netop skulle gå til mesteren selv?
Dermed også sagt, at Vagabond Trail ikke gør nogen noget ondt, og faktisk er et studie i lækker indspilning uden at det på noget tidspunkt bliver pænt poleret produceret og æstetikken på fineste vis bevares.
Så man hygger sig i selskab med Jan Olsen – men får ikke rigtigt én på opleveren.
Anmeldt af: Troels-Henrik Krag