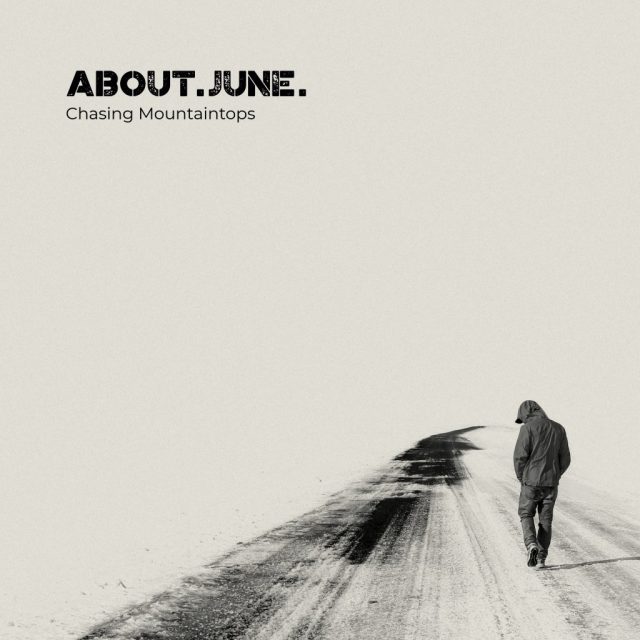 ABOUT.JUNE kommer på deres debutalbum Chasing Mountaintops godt rundt i rockens mange genrer, i det bandet selv definerer som "alternativ garage". Desværre formår bandet ikke at løfte debuten helt op over bjergtoppene, men der er da optræk til nogle løft, hist og pist på albummet.
Der er ellers lagt kakkelovnen, til en rock-fest af de helt store, på Chasing Mountaintops, der består af 12 sange. Som sagt, kommer man rundt i mange af rockens genre, lige fra ska-punk over singer songwriter til neogrunge, og det er, som bandet skriver i deres pressemeddelse, på nippet til at være skizofrent. Men, som de ligeledes nævner, bliver det hele holdt sammen af den gode melodi, der sammen med leadvokalen, skaber en sammenhæng albummet igennem.
Rent musikalsk, trækkes der referencer fra 90'ernes og 00'ernes rock, og man bliver da også ofte, sendt et par og tyve år tilbage i tiden, hvor man bliver ramt af lyden af en stak danske engelsksyngende bands, jeg kan høre en snas Inside The Whale og skam også mere internationale, som eksempelvis R.E.M.
Og det lugter da også lidt af R.E.M. på titelnummeret "Chasing Mountaintops", der rammer cirka midt på skiven, at ABOUT.JUNE når højest på skalaen, men dog ikke på grund af R.E.M. For det er kun forsanger Kasper Bro's vokal, der minder en smule om Michael Stipe, ellers er der ikke så meget at komme efter. Men sangen fremstår, i forhold til størstedelen af albummets resterende sange, meget komplet, fra en noget højere hylde, og er en af de få, der er over middel. Der er tale om en sang, der er flot skruet sammen, der opbygger et univers og drager lytteren.
Der er en række sange, der har tilløb til noget rigtig godt, herunder den slæbende og tunge "Make Believe", den semi-hårdt rockende "The Pilot" og den stille "Concrete Pillow", men de mangler alle tre, simpelthen det sidste, for at løfte sig helt og brænde igennem. Og ikke mindst, have det der skal til, for at blive hængende bare en lille smule i hovedet efter gennemspilning.
Det er en skam, for det er ikke fordi bandet ikke spiller godt, det gør de. Produktionen kan man heller ikke pege fingre ad, og bundniveauet er også fint. Men, der hvor skoen trykker, er kort og godt, sangskrivningen. For der er altså ikke noget nyt under solen, heller ikke den alternative selvopfundne, garage genre. For indholdet på Chasing Mountaintops er hørt før, selvfølgelig ikke 1:1, men det er ikke specielt nyskabende. Det skal det for alt i verden heller ikke være, men er det ikke det, så kræver det at man differentierer sig med et eller andet, gør noget der stikker helt af og det formår ABOUT.JUNE ikke at gøre på deres debut.
Alt i alt er Chasing Mountaintops godt håndværk, men som helhed, er albummet glemt umiddelbart efter gennemlytning. Der mangler lige det sidste, for at hive sig op over middel, og op på de 4 stjerner. Derfor bliver det til 3 store stjerner til ABOUT.JUNE og Chasing Mountaintops.
Anmeldt af Thomas Bjerregaard Bonde