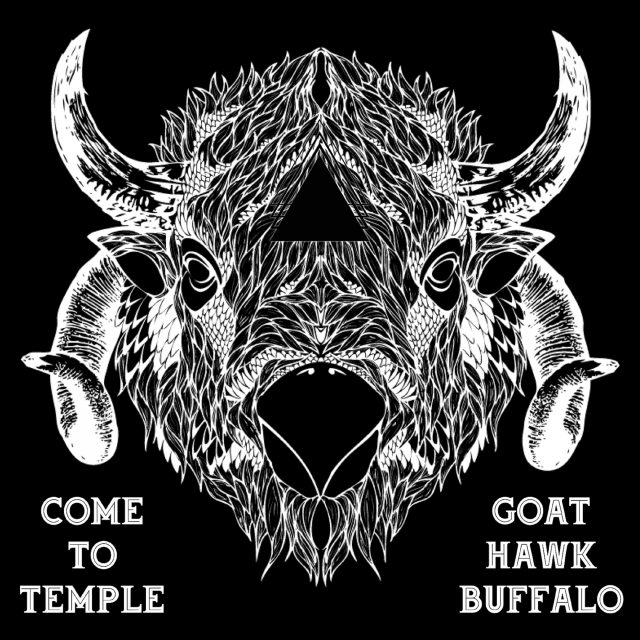 Sludge og variation er måske ikke to ord, der ofte nævnes i samme sætning. Men ved at kombinere energisk derudaf-sludge med både balladestof og næsten industrial-inspirerede numre, leverer GoatHawkBuffalo en god, kødfuld sludge sandwich.
I en tid, hvor Dessert Sessions igen træder sammen og udgiver, passer timingen med GoatHawkBuffalos udgivelse Come To Temple virkelig fint. Alright, der er måske mere Kyuss over udtrykket hos sludgerne fra København.
Det er hverken sofistikeret, særlig teknisk eller på nogen som helst måde opfordrende til ret meget andet end at drikke bajer. Men det er det til gengæld også rigtig godt til – og med forsanger Johan Brandts selvudnævnte gutturale vokal kan man godt have bandet mistænkt for at have drukket af det gyldne bryg – i hvert fald dagen inden.
Ikke fordi musikken ikke står skarpt på pladen: Genren har selvfølgelig et vist spillerum, men trommer og bas sidder lige i skabet og de fedtede guitargains oven på synes ikke at dække over tvivlsom teknik. Der er styr på sagerne.
'Broken Whore' og titelnummeret, 'Come To Temple', lægger et højt tempo fra start og danner sammen med den lidt mere mondænt temposatte 'Soil'n'Mud' en fin trio at åbne pladen på. Og således godt i gang brydes momentum fint med en vaskeægte sjæler i 'The Ridge'. Egal vokal og sfæriske guitarer (måske endda med violinbue i introen?) skaber stemning af bondeanger og da den får godt med suppe – inklusive distortion på vokalen – i afslutningen af nummeret, er det ikke bare en manifestation af 'hey, vi kan også lave pæne numre', men endnu en tangent til bandet.
Sådan nede i tempo sættes maskinen i femte gear i de næste to numre, 'Pretty Promise' og 'Life In Chaos', før vi ramler ind i nok en variation: den nærmest industrial-maskinelle 'Buried Alive', der både fortaber sig i elektronisk støj, spoken word og anden smadder / pathos. Det slipper de altså også rigtig hæderligt fra hos københavnerne! Tre numre med god smadder på (om end afslutteren, 'Pound', har ballade-elementer) gør, at Come To Temple bliver en fin, sludget sandwich.
De to-tre varierende numre deler pladen op i små sektioner og sikrer, at bandet ikke strejfer fra den genre, det så fint mestrer – men samtidig heller ikke forfalder til den monotoni, der kan ligge i netop denne genre. Ti numre bliver dermed ikke for meget, variationen er yderst veldisponeret, og der er både smadder-derudaf og pauser til at overveje, om det nu er så simpelt det hele?
Guderne må vide, hvordan Dessert Sessions udvikler sig – det er som bekendt noget af en legestue. Men finder de en rød tråd som GoatHawkBuffalo og sørger for at lave klædelig variation, så er der noget at glæde sig til.
Indtil da kan vi glæde os over hvordan bands i Danmark – så langt fra en rigtig ørken – kan levere høj kvalitet. Tak for det, GoatHawkBuffalo!
Anmeldt af: Troels-Henrik B. Krag