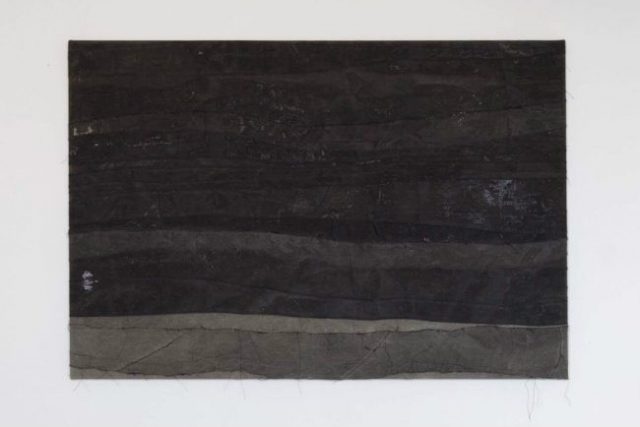 Tilebreaker put forth their first full-length, a post-punk palette cleanser of solid slowcore highs and lows. 
The wait is over. At least for a select group of the Aarhus post-punk/indie scene followers. Tilebreaker's full length LP is now in circulation, a release show is happening and then the world can resume its normal behavior (or continue for you if you're not nominally disrupted by this release.)
Tilebreaker are no newbies to the scene either. If you've had the Aarhus scene under a microscope for the last 5 years, you'll notice the constant movement of members between groups. Notably for Tilebreaker at least we have Anders Thode Rasmusen at the front. Anders was formerly co-front man of Snaredrum – one of my personal faves of the post-punk overflow. It's apparent that the group became inactive after Mikkel Holm drafted both Tobias Guldborg Tarp (to bass) and Frederik Nybo Veile (drums) into his constellation of backers to form Yung. That shift left a great songwriter without really a few legs to stand on. Anders Thode Rasmusen seemingly used this windfall to gestate a new group; Tilebreaker.
Having seen some of Tilebreaker's first shows – I was immediately piqued by their dynamic of slow-building post-indie and flourishes of slowcore and 'Polvo-esque' mathcore. Even their name on further inspection may be grafted from an early Polvo track of the same name. Tilebreaker's appeal for me nonetheless was not that it was different from anything I'd heard before – but in the context of the burgeoning bombast of the mid-teens Aarhus post-punk scene, they were a sort of palette cleanser. By turning down the energy and volume – they were able to grab folks and reel them in, rather than the normal assault and battery tricks employed by their comrades.
For their first full length affair, Tilebreaker has taken that recipe and expanded upon it gloriously. Upon first glance the 6 tracks included here are averaging over the 6:00 mark. Each one beginning in a slow dirge and containing moments of crescendos and stabs of angular swathes of noise. One might be apt in lumping this in with earlier post-rock (via Mogwai) but then you'd be ignoring the entire frame of songwriting that supports it. You're best referencing slowcore stalwarts such as Low or Spain with splashes of sunnier indie a la Polvo or earlier Pedro The Lion. Basically, without ripping down the curtains too much – this record is good solid thoughtful indie.
Tilebreaker's formula of building a track to the aforementioned crescendos here and either backing them off or launching them into more noise doesn't really alter much. The record is well thought out and recorded. What most laymen may or may not know – it is much more difficult in fact to show restraint and dynamics in rock music than to boogie. In that way, Tilebreaker's ace in the hole is secured. My only critique of their overall sound is that I'd wished they'd just really gone for it and further explored those peaks and valleys dynamically. Still though, tracks like "Shores" and "Snow" (2 and 3 respectively) are as fine examples of the genre as any of their forbearers. If you want the full breath of the 'Tilebreaker sound', absorb the title-track, "In The Undergrowth" for maximum effect. masterful dynamics coalescing into screaming proto-slowcore-ness.
No doubt – this sort of sonic exploration is practically made to be enjoyed live. That's where the animal bears its teeth. I highly recommend witnessing it firsthand at their release show Friday, where you can also pick up a physical copy of this fine LP. It's limited to 200 examples, which is about the capacity of TAPE, so you'll want to jump on it. Hopefully Tilebreaker doesn't make us wait another 3 years for new material.
Release show event HERE.
Pre-order via Shordwood Records.
Or check it out via Soundcloud.
By Bobby McBride