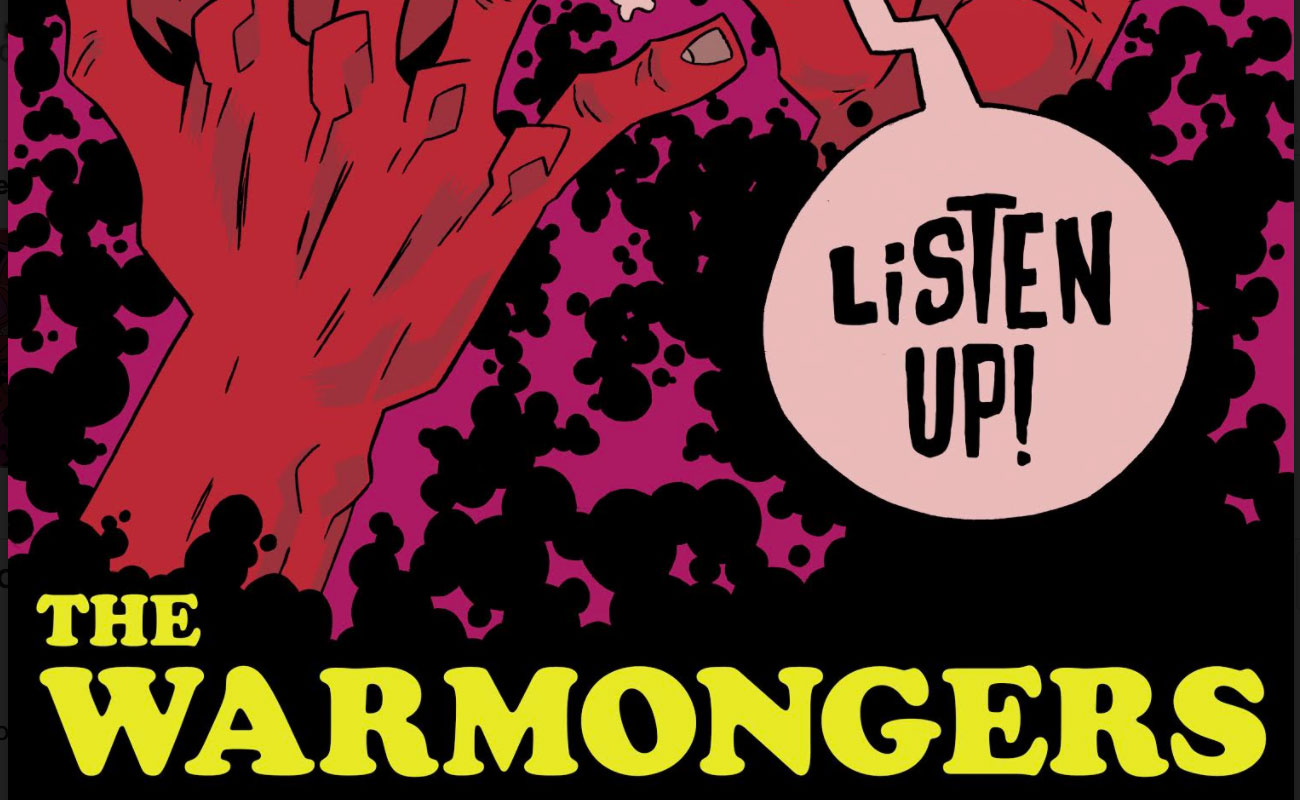 The Warmongers leverer medrivende og catchy garage-retro-rock på debutpladen, Listen Up!, der dog lige mangler et par ørehængere og en mere defineret lyd for at ramme helt plet.
Det er så sandelig ikke spilleglæde der mangler på trioens 13 numre lange debut. Bandet, der består at to styk medlemmer fra det hedengangne rockband The Attacks, Terry O'Tool på vokal og guitar, Johnny9 på bas samt et styk Wizard of Love medlem, Ed Zimmerman på trommer, giver den én over garage-rock nakken, så man suser direkte tilbage til da far var ung, og svingede skanker til det der nymodens musik.
Der er blandt andet referencer fra især The Who, men også navne som The Doors, The Rolling Stones, og ikke mindst gode gamle Marc Bolan og noget T-Rex, er at finde på pladen. Bandets lyd fremstår autentisk, og kunne lige så vel have været optaget for 50 år siden, og derefter krydret med lidt nutidige rock-tendenser.
Pladen byder som sagt på 13 sange, og størstedelen er ganske iørefaldende, leveret af et band der kan deres kram og anført af en kompetent forsanger. Musikken er dog ikke voldsomt originalt, dertil er referencerne for store, men vokalen giver The Warmongers et positivt særkende og gør at de differentierer sig fra førnævnte artister, og skiller sig positivt ud i rocklandskabet.
Og det er netop at musikken ikke er super originalt, der er min største anke. Bandet har tildels deres egen lyd, men lyder samtidig lidt som The Doors på et nummer, The Who på et andet, Stones på et tredje og Marc Bolan på et fjerde, dog uden der går plagiat i den. Dette gør at man sidder tilbage med en fornemmelse af at bandet et eller andet sted godt ved hvor de vil hen, men endnu ikke har fundet vejen derhen, og dermed heller ikke deres egen lyd og stil 100% endnu.
På trods af det, skal man være være i et usædvanligt dårligt humør, for ikke at blive revet med af bandets retro udskejelser. Albummet er godt varieret, det emmer af energi, spilleglæde og kærlighed til rocken som den var back in the days. Sange som "Never Coming Back", "Get To Know Me", "Sun In The Sky", "Hot Rod Mama" og snigeren "Music In Colours" skiller sig ud, i et i øvrigt stærkt felt, og der er ingen tvivl om at åbneren "I Need You" er albummets stærkeste, og vel også har fortjent at blive semi-rundtosset af rotation på de danske radiokanaler der tør spille rock.
Når alt kommer til alt, og det gør det jo oftest, så er Listen Up! en rigtig fin debut, og man kan tydeligt fornemme at det er rutinerede musikanter der står bag. Der er absolut ikke en finger at sætte på hverken produktion eller fremførsel, sangskrivningen er også på et relativt højt niveau. Men når det er sagt, mangler der, som skrevet tidligere, et par ørehængere og ikke mindst at bandet får deres lyd helt på plads.
Jeg kvitterer med 4 store stjerner, over middel er vi i den grad, og ser frem til at den svære to'er rammer gaden, for jeg har på fornemmelsen, at lidt mere tid uden tvivl vil gøre, at The Warmongers rammer endnu mere plet.
Listen Up! udkom d. 18/11-2016 via Nordic Music Society
Anmeldt af Thomas Bjerregaard Bonde