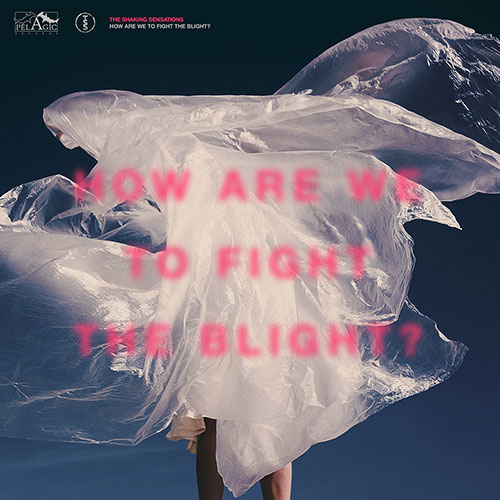 Post-rockerne i The Shaking Sensations har efter seks års pause begået en glimrende plade omdrejende temaer om fejl, egen skyld og at slutte fred med skylden. Resultatet er flot og ved hjælp af stor variation lykkedes det over otte numre ikke at falde i monotonies fælde, fraværet af vokaler til trods.
Det er det samme hver gang, jeg starter på at lytte til How Are We To Fight The Blight: Det første nummer får mig til at tænke, at det da er lidt generisk post-rock, en tanke der variationen til trods fortsætter ind i andet nummer, 'Tremendous Efforts'. Indtil vi når to minutter og 50 sekunder ind andennummeret: En fed, fedtet guitarlyd lægger det hele ned, smilet springer på læben og pludselig giver det mening.
Det er som at lytte til en meget lyrisk plade og så netop dér fange nøgle-sætningen, der sætter det hele i kontekst. Det er det nærmeste, jeg kan komme at beskrive det.
For ved at vise, at bandet faktisk KAN larme lidt igennem, og dermed bruge ét af de væsentligste værktøjer i postrockens katalog, bliver den resterende plade rigtig fin. Og så – underfundigt nok – gør det ikke så meget, at den potente lyd blot én gang vender tilbage: Vi har set jeres tænder, der er ingen grund til at overspille dét kort.
Lydmæssigt ligger The Shaking Sensations tættere på islandske For A Minor Reflection end eksempelvis skotske Mogwai – eller danske Eigengrau. Det oversættes til forholdsvis ukompakt, åben lyd med chorus/rumklangsguitar. Og over otte numre viser bandet også evnen til at variere – helt enkelt en nødvendighed inden for genren, da teksterne per definition er fraværende og dermed ikke skaber dynamik.
Vi bevæger os mellem rag'ede trommer i 'Tremendous Effort', over tyndere ballade-agtig 'The Frailness Of You Stem' til storladen, patetisk lyd på 'End Of Hope' med ah-kor og hele pivtøjet. Ja, det kunne næsten have været MEW. Dygtigt er det lavet, og der er masser af materiale, der vil udløse bøder til post-rockens kliche-bødekasse: Numre på omkring ti minutter, suspense-release, numre, der kan beskrives som 'episke' og 'sfærisk' kan også tilknyttes de fleste numre.
Der er dermed også meget at være glad for post-rockfans på How Are We To Fight The Blight. Ja, faktisk tilføjes endnu en daler til bødekassen, da titler som 'In Dead Silence, Hang Your Ghosts', 'End of Hope' og 'Manual Trauma' kan minde om noget, Mogwai kunne have kaldt deres dispositioner. Dog uden den skotske let ironiske tilgang.
TSS går noget mere direkte til værks: Temaet for pladen er ifølge pressematerialet at anerkende problemer og vedkende sig, at man selv er kilden til netop disse problemer. Bum. Værsgo' at spis!
Skal jeg finde hår i suppen (eller et problem?!), så er det at bandet ikke helt formår at lave voldsomt mindeværdige numre. Man er SUPER fint underholdt og til dels forført, så længe musikken spiller. Og pladens højdepunkt i 'Tremendous Effort' ER fint – også når det gentages i det noget længere 'In Dead Silence', Hang Your Ghosts'. Men. Selv om jeg finder det prisværdigt, at bandet ikke overudnytter dette trick, så mangler der – den megen variation til trods – nogle snapse.
Er det pop hooks? Er det smadder? Er det uslippelige melodistumper? Jeg kommer det ikke nærmere, men ender med at konkludere, at How Are We To Fight The Blight er en god plade – men at islændingene i For A Minor Reflection nok rammer dét der vedkvægende oftere per plade. Men lad nu islændinge være islændinge! The Shaking Sensations er særdeles velkomne tilbage efter seks års pause – og det er dejligt at have et stadig mere farverigt udbud på post-rockscenen i Danmark!
Anmeldt af: Troels-Henrik B. Krag