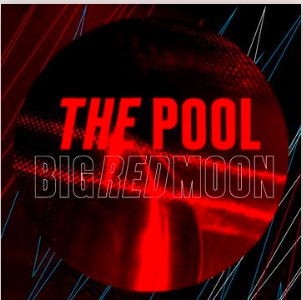 The Pool viser over tre numre et bredt spektrum inden for elektronisk musik, løseligt baseret på rock. Den dramtiske stil bliver dog hurtigt for meget og dygtig produktion redder ikke projektet fra at være lidt forglemmeligt. 
Big Red Moon fanger ikke rigtigt popmelodier eller andre hooks og lider lidt under sin dramatiske tyngde. Jeg spillede en gang et job med mit band, hvor vi fik support af københavnske Unexploded. Jeg husker tydeligt, hvordan vi undrede os over, hvordan et band med tilsyneladende rock-islæt lød så elektronisk. Noget lignende gør sig gældende for Big Red Moon: Det er elektronisk musik, men ikke pop. Der er guitar – men guitaren synes både at have en ikke-central position, og har gains, der gør den ret elektronisk i udtrykket.
Der er tre numre at gøre godt med på The Pool. De bliver fremført med store mængder alvor og dramatik – hvilket bliver lidt en hæmsko. For allerede i første nummer kammer det lidt over.
Der åbnes med 'Big Red Moon' som drives af en elektronisk bas, som danner et riff oven på hvilket der lægges synth-kor, synths og elektroniske effekter, der lyder som en form for opdateret otte-bit keyboard. Kombineret med de dramatisk, nærmest aggressivt tilbagelænede dobbelt-vokaler lyder det som man nok havde forstillet sig, at musik ville lyde fremtiden i 80erne. På den måde bliver nummeret lidt ironisk en opfyldelse af en ikke-artikuleret profeti – men på grund af den alvorligt, dramatisk fremførte vokal udebliver den ironiske vinkel. "Tell it to me nicely / Very, very nicely / pretty words nicely / Now won't you tell it to / Me" går andet vers og også det kunne være noget fra en anden tid. Det er bestemt ikke dårligt. Lydbilledet hænger sammen og der er høj intensitet. Men det har også en lød af at være lidt bedaget.
'Shortcuts' følger op som en uptempo-sag, hvor en synthbas igen bærer, elektroniske kor spiller en rolle og vokalen bliver nærmest knirkende. Der kunne være lidt goth over det, men det er samtidig for 'luftigt' i lydbilledet til at ramme den genre. "Gimme your love, now / give me your love" er selvfølgelig et dekadent pop-tema, men det fænger ikke rigtigt.
Nummeret kunne for så vidt godt betegnes dansabelt, men det falder lidt uden for både pop og goth. Ganske selvhøjtideligt dramatisk i fremførelsen, men savner hooks til at blive en ørehænger.
Stærkest står afslutteren, 'In Waves', som har lidt lød af sen Bowie: Lækker produktion, laid back vokal, der med halv-bowie agtig coolness langsomt leverer teksterne mens en tynd spøgelsesagtig synth. Det holder ganske godt!
The Pool er afgjort bedst på den afsluttende ballade og bliver på åbneren og uptempo-midtnummeret lidt for dramatisk og alvorlig til at lytteoplevelsen bliver rigtig god.
Big Red Moon er godt produceret, men savner altså hooks og noget, der hænger ved.
Anmeldt af: Troels-Henrik Krag