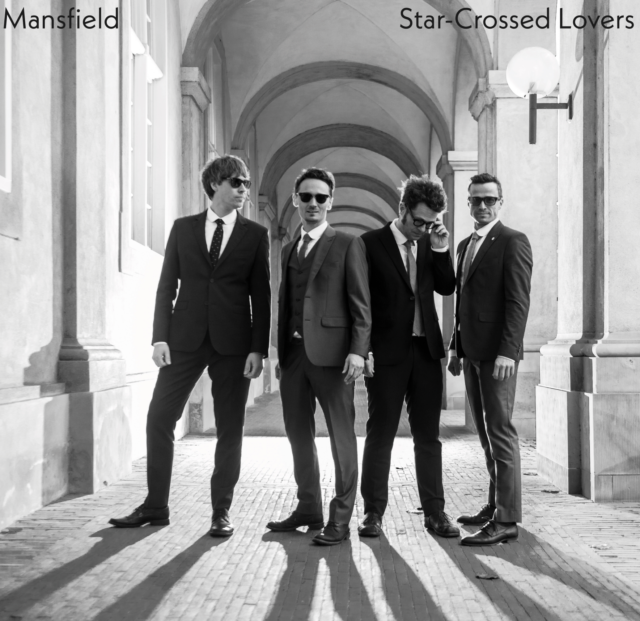 Med hints af noget klassisk pop-rock og med charmerende dansk accent leverer Mansfield 11 lettilgængelige numre, der trækker på gamle dyder og leveres overbevisende. Ingen falder ned af stolen over denne form for musik, men det er musik, der efterlader lytteren med et stille smil.
Der er noget iboende, pre-britpop britisk over Mansfield: Inspirationen fra The Beatles, Kinks og andre er tydelig, uden at man som lytter på noget tidspunkt er i tvivl om, at bandet er sit eget. Til trods for det britiske islæt, bydes der også på charmerende dansk accent og hints af Gangway.
Det er meget de klassiske dyder, der gør sig gældende på Star-Crossed Lovers; melodiske, lettilgængelige numre, kort ekko på lead-vokalen, subtile, lækre b-vokaler og ellers en klassisk rock-besætning – tilsat lidt tangenter.
Der er 11 numre og langt de fleste kan løseligt betegnes dansable og i udgangspunktet poppede. Men leveret med stor charme og overskud. Det KAN noget, det her og selv om der ikke er meget nyt under solen, så er alt på pladen sympatisk.
Stærkest står de mere uptempo-drevne numre, mens balladerne ikke når samme højde. Heldigvis er der, som nævnt, flest numre med lidt gang i den. Det stærkeste nummer er 'Safe And Sound', der kunne være skrevet af Gangway: der er 'svensker-claves' i klaveret, en munter fremdrift og endda lidt sarkasme i teksten, når refrænet taler om "Is there anywhere / You'd rather be / When your house has fallen down / Fallen down upon your pretty, litte feet".
Men inden da har vi fået en back-beat basker i 'Tell It Like It Is', som har et særdeles klassisk rock-pop islæt, en radiovenlig længde på godt to minutter og masser af fortællelyst i vokalen.
Men Star-Crossed Lovers er ikke rigtigt en plade, hvor det er så nemt at fremhæve numre. Der er et konstant, højt kvalitetsniveau og det kommer aldrig til at virke bedaget, men snarere genkendeligt når bandet bruger så etablerede greb fra den klassiske rock, som de gør. Det generelle indtryk er, at man skal være lavet ret meget af sten for ikke at smile lidt af numrene her…
Og så opstår tvivlen alligevel, når vi når til afslutteren, 'Stay': For i anden strofe kammer det måske over med happy-go-lucky-tilgangen: "Bee-bap-dedelee-doo / Well, your words are somewhat scary / but your eyes are somehow daring / and it's true…".
Er det egentlig OK at rime på scat? Cirka hver anden gang, jeg hører pladen synes jeg, det er for meget – den anden at de går til stregen og holder sig nøjagtig inden for linjerne. Hm.
Mansfield kommer ikke til at revolutionere musikken. Med hurtigt ekko på vokalen, vokalharmonier og til tider en fræk blues-solo i guitaren er det retro, uden at være alt for cool. Pladen virker charmerende, ærlig og rummer en følelse af overskud.
Stort set alle numre nærmer sig de radiovenlige tre minutter og jeg kunne sagtens forestille mig, at de kunne få lidt airtime. For man KOMMER i godt humør af det her og til tider må tingene også gerne bare være charmerende, genkendelige og i øvrigt godt udført.
Star-Crossed Lovers er også en plade, man kan sætte på, når Far og Mor – eller endda Bedstefar og Bedstemor – kommer på besøg, og de vil kunne genkende musikken, genren og energien. Og det rummer en kvalitet i sig selv.
Anmeldt af: Troels-Henrik Krag