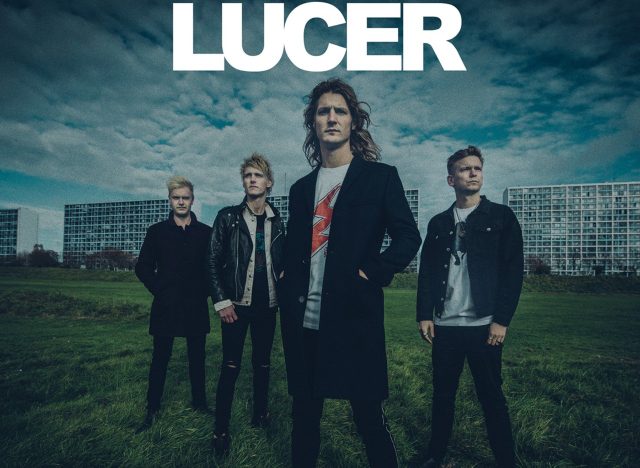 Lucer har været et par år om at samle materiale til Ghost Town. Det er en meget professionelt lavet plade, der lægger sig fint i midten af den bløde, producerede poprock med afstikkere til country-inspiration. Resultatet bliver en lidt dårligere version af de mulige oplæg.
Fra første tone er det tydeligt, at Lucer har styr på deres lyd og produktion: Store trommer og en bas med godt med drive åbner Ghost Town og 'Indestructable' kommer hurtigt til at minde om en Carpark North-sang.
Et pop-hook, godt brug af kor, synth og endda et breakdown her og der. Fint. Så ved vi, hvad vi har med at gøre.
Titelnummeret falder som andenskæring og minder i groovet og melodiføringen i guitaren om Melanie Cs 'Never Be The Same Again'. Og det bliver ikke sidste gang, man oplever at pladen er stærkt inspireret af 90'ernes og the naughties' popmusik: 'Party Like A Rockstar' kunne, titlen til trods, sagtens være produceret i Sverige og have været solgt til ét af de utallige boybands fra den tid.
Der er en generel tilbagevenden til maskin-æstetik i lyrikken og fokus på landevejen eller motorer kommer dermed også til at passe ganske fint med den stærkt country-inspirerede 'Young People Stupid'. Den kommer til at fremstå omtrent så original som Kid Rocks ode til Sweet Home Alabama, 'All Summer Long'. Ja, du gættede rigtigt: Lidt pastiche-agtigt.
Den muligvis sarkastiske 'The Good' Life kommer også til at smage af noget, der med fordel kunne være blevet i USA. Bridgen går:
"All I see is smiles on every faces / walking round / (going crazy? growing daisies?) / Psych killer / in the mirror / Kids to feed / let me shoot the breeze"
– og refrænet:
"I need myself a housewife / an ordinary steak knife / so I can cut myself a piece / of what they call the good life".

Puh, siger jeg bare. Nuvel, der er god gang i den og hvis man ellers ikke lytter efter teksten er det vel… Bare poleret rock derudaf?
Joh, der prøves såmænd med ét af rockens ældste tricks: At være en fandens karl på 'Killer', der i refrænet går "I'm a killer / in the game of love". Igen: Det virker ret meningsløst.
Lucer slår sig op på at være et fremragende live band og at have ambitioner om at overtage ikke bare Danmarks- men verdensherredømmet. Jeg håber virkelig, de er gode live – for Ghost Town bliver nærmest et skole-eksempel på, hvordan man kan forblændes af god lyd og stærk produktion – men så måske glemmer at have fokus på indholdet.

Det kan være, de sidder med et stort grin på og synes, det hele er en joke. Og her må jeg bare sige: Hvis man vil tage pis på country, så skal man dælme stå tidligt op! Hører man trucker-country, er det nærmest svært at finde på noget, der er mere tykt end the real deal…Så måske er det bare der, Lucer skal finde sit publikum.
Jeg kan egentlig godt lide, at bandet leger med det kendte: En boyband/90's/naughties æstetik, som de har virkelig godt fat i. Men som pladen udvikler sig så stivner smilet noget. Eller meget.
Alt i alt er der ikke mange argumenter for at finde Ghost Town frem igen. Det er gjort bedre andensteds, og de tips of the hat, som pladen synes at sende bagud i tiden og over vandet bliver bare aldrig nok til at gøre pladen rigtig relevant.
Anmeldt af: Troels-Henrik Krag