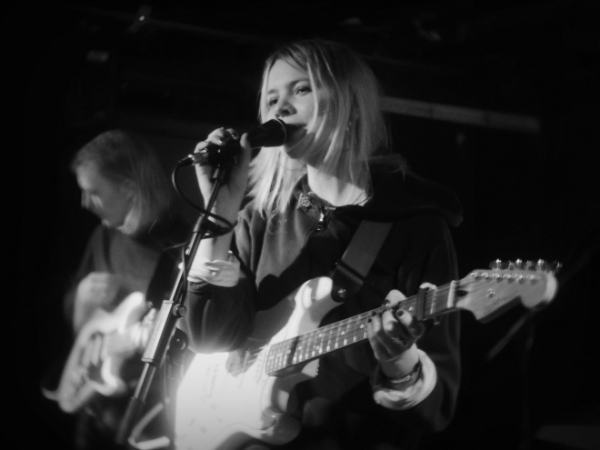 Swedish band Hater recently visited Tapetown studios in Aarhus for a session. Our English-language writer, Bobby McBride, sat down with the band for an interview. 
I love it when music enhances the soundtrack of your life. The depths of winter between the holiday season, with its frantic bursts of light and coziness, give way to the icy cold slush of the strange long nights of Nordic winter. Short rides on the new letbane, long walks in inclement weather whilst pondering life with questions like; "what's the fucking point?" and scoring it with an appropriate music choice. That choice for me became Hater – the fragile Malmö quartet's discography on repeats and shuffles during my loathsome sojourns.
Of course, the gods put Hater in Aarhus a few weeks back for a headlining set in TAPE. The gods do smile sometimes. They were positively grinning from ear to ear when we found out Hater was up for doing a Live At Tapetown session before the show. They might even have let me talk to them and write it down. If you were one of the lucky few who happened to be there, you got a great lil' show. It might have been the first time they'd performed in Aarhus – but I'm hoping not the last. The rest of the indie-savvy scene is catching on to them. This document might help if you're new to the ball. Here's what we waxed from an evening with Hater. A wee chat, an impromptu photo session in the toilet, a mesmerizing live take of "Blushing", and an armload of feels from a great set.
Hater are:
Caroline Landahl (Vocals/guitar)
Måns Leonarlsson (guitar)
Lukas Thomasson (drums)
Adam Agace (bass)
GFR: You guys are actually the 3rd Swedish group to play Live At Tapetown (Dead Vibrations and Pale Honey…), Why the heck are the Swedish so great at music?
Måns: The only thing I've heard is that it's something in the water – but it's also probably because it's so dark there – but that's the same way here so….
GFR: So, the Danes aren't utilizing their darkness?
Måns: I mean – they're great too!
Adam – I guess it gives you a bit of confidence when you know there are so many that have done it before you, that it's possible for us to actually do something. When you have so many great role models, I guess it's easier than if you were the first one
Lukas – yeah, we just copy…
GFR: Hater has only been together for 2 years now, but you've already got stand-alone singles, A full length LP and now an EP. That's a pretty good for modern times. Are you guys planning on keeping up the pace then?
Måns: Yeah – we're already recording a new album in 2 months – with the same guy (Joakim Lindberg) but a new studio.
GFR: When I first started reading about Hater, I expected to be checking out a Swedish hardcore-punk band. Needless to say, I was pleasantly surprised when I heard…yeah…this. How did the name come about? Do you get folks saying that quite a bit?
Caroline: It was Luka that came up with the name. He had some other suggestions…
GFR: Oh yeah…like what?
Lukas: The Coffee was one…Olive Oil was in there…
GFR: Olive Oil…as in reference to Popeye or food?
Lukas: Olive Oil! As in OLIVE OIL!! You put it on pasta…you don't know what olive oil is?
GFR: I'm aware of what olive oil is yes, but Popeye's girlfriend in English is named Olive Oil – however it just dawned on me that y'all probably call her something different in Swedish.
Måns: Actually, there was another band called "Hater" – a side project with some of the guys from Soundgarden. It must be confusing for any fans.
Lukas: When we found that out we thought – ah, we'll just be called "Hatter", but there was one of them too it turns out…
GFR: Maybe that explains why I couldn't find you on Instagram…
Caroline: What – it's #Haterrmusic, you know, with two "r" s!
GFR: That was so terribly obvious. Thanks guys…
—
And with that, the band agreed to have some photos taken with my buddy Bjorn, however there is no proper backstage at Tape, and it's dark as all hell in there – so the band suggested we all pile in to a toilet stall and get the job done. And with my task completed, I had only to drink beer and watch the show thereafter. Which I gladly did. I've had worse Tuesdays if I'm honest.
Keep an eye on GFR for more Live At Tapetown upcoming sessions and news. 
Written by Bobby McBride
Photos by: Bjørn Giesenbauer