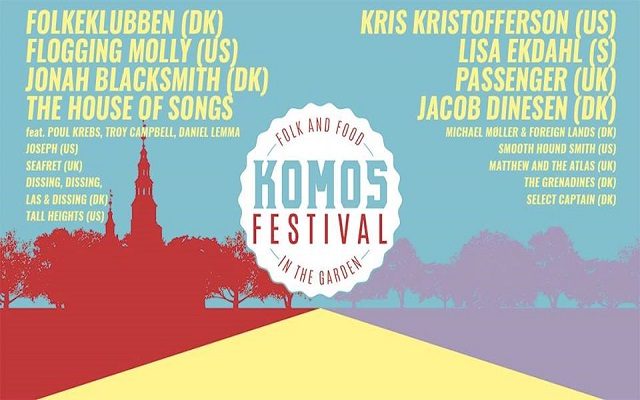 Fredag og lørdag d. 16.+.17. juni forvandles Kongens Have i hjertet af København til et lille slaraffenland for folk der elsker folkemusik og mad. Her afholdes den første Komos Festival, hvor du ud over god mad og talks kan opleve navne som Kris Kristofferson, Flogging Molly, Dissing, Dissing, Las & Dissing, Folkeklubben, Jacob Dinesen, Lisa Ekdahl, Select Captain og flere.
Og dette fine arrangement kan du vinde 1×2 billetter til lige her. Komos Festival har fokus på musik, i den folkede afdeling og så mad. I den forbindelse har festivalen indgået et samarbejde med Kødbyens Mad & Marked og målet er, at "råvarerne skal være lokale, økologien er vigtig, bæredygtighed er afgørende og kvalitet i øjenhøjde er fundamentalt".
Ud over dette kan du slå mave til ovennævnte kunstnere, plus navne som Jonah Blacksmith, The Grenadines, Michael Møller & Foreign Lands og flere! Det fulde program finder du på Komos Festivals hjemmeside, hvor du også kan finde svaret på denne konkurrence.
For, hvad betyder "komos" egentlig i følge nævnte hjemmeside?
A) Have
B) Konge
C) Gilde
Send dit svar til gfrockdk@gmail.com, skrive "komos" i emnefeltet og svar + kontaktoplysninger i mailen. Deadline fredag d. 9/6 kl. 12.00. Vinderen af 1×2 billetter får direkte besked fra os, præmien sørger Promote It for.
Held og lykke!