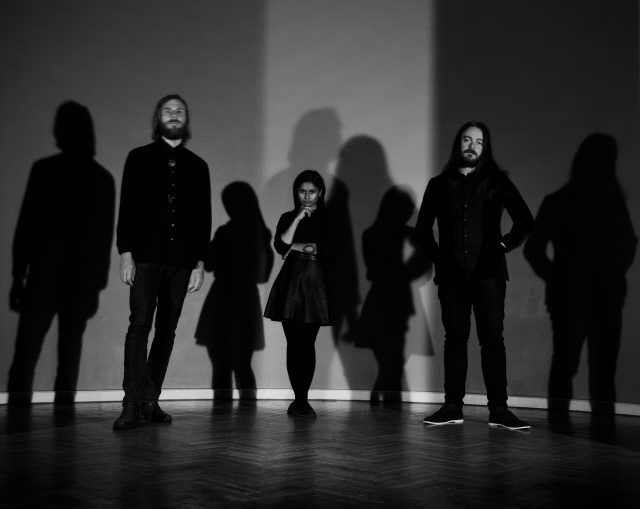 Jeg er vild med stemningen. Jeg er vild med vokalen. Jeg er vild med guitarerne. Jeg er vild med lyden. Jeg er bare ikke vild med sangene.
Der er ingen tvivl omkring, hvilke stemninger Jaguar Moon er tilhænger af, og i hvilket selskab de ønsker at deltage i. De er sågar heller ikke blege for at påpege deres forkærlighed for universer skabt af Twin Peaks, Radiohead og Ennio Morricone. Jeg synes særligt, at de to førstnævnte lyder til at være klare inspirationer. Med en dragende og højt-pitched vokal a la Thom Yorke formår frontmand Bjarke Bendtsen at levere et skævt vokalt udtryk, som passer godt ind i de dystre og cool tremolotunge, reverbede guitarfigurer.
Men grunden til, at alle disse nævnte lyduniverser formår at fungere, skyldes helt basalt den fantastiske sangskrivning, som ligger bag. Et dragende univers skal aldrig gå hen og blive kedeligt, for da bliver det dragende blot monotont. Og det er desværre, hvad Jaguar Moon lidt ender op med på denne EP.
Åbningsnummeret "Ostrich" cirkulerer omkring en ganske flad dynamik, som ved første øjekast synes netop dragende, men som nummeret skrider frem efterlader én med følelsen af, at sangen kunne slippe afsted med den halve længde. Det lyriske univers fanger mig heller ikke helt. Billedsproget og metaforerne virker en del søgte, og leder konsekvent op til en overfortolkning.
Vokalmelodierne og guitarfigurerne, som er de primære elementer på pladen, har ligeledes ingen dynamiske udsving overhovedet. Selvom det bliver eksekveret ganske fint, er det bare svært at gennemskue, hvilke af EP'ens passager som indeholder det afgørende catchy element – hvad end det er en vokalfrase eller et hvilket som helst andet instrument – der for alvor overbeviser lytteren om, at vi befinder os i "the pink room" på et syret landevejsmotel.
De efterfølgende numre følger "Ostrich"s spor i den flade dynamik, og det bliver sværere og sværere at holde koncentrationen på denne EP, hvilket desværre udmunder i lidt af en langgaber.
Som nævnt er jeg stor tilhænger af universet, som Jaguar Moon forsøger at skabe, men grundlæggende er min opfattelse, at medlemmerne i første omgang skal have styr på den dygtige sangskrivning, for så derefter at koble det på deres spændende syn på stemningsskabelse.
Skrevet af Jacob Mignon
Foto: Jesper Helbo, Jaguar Moon pressefoto