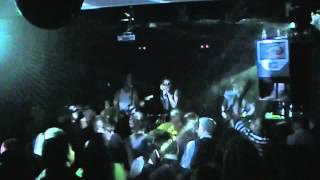 The Fast Album, ja det skal jeg da lige love for! Albummet består af 8 sange, hvor det korteste er 1.22 og det længste 3.19, og har en total spillelængde på 17.52 minutter! Ydermere er albummet optaget af Mads selv, han spiller selv alle instrumenter og for at det ikke skulle være nok, er stort set alle sange one-takes…
Alt ovenstående taget i betragtning, må jeg ærligt indrømme, at jeg ikke havde det helt store forventniger til albummet, det kunne gå begge veje, heldigvis gik det i den absolutte positive retning. Som nævnt før, består The Fast Album af 8 sange, og skal man sammenligne med andet, for det skal man jo, lugter det af et mash-up af The Doors/The Jesus and Mary Chain/Psyched Up Janis (Hi-Fi Low Life)/Grant Lee Phillips – ved ikke om du blev klogere af det.
Albummet starter spøjst nok med sangen "Outroo". Skulle man tænke at det er mystisk at smide en åbner ind med den titel, så forklarer sangen, i min verden, valget. Det er et helt igennem gennemsyret nummer, der fænger fra første anslag, og kan sagtens minde om soundtracket til en søndag morgen, hvor man måske kom lidt for sent i seng lørdag, lidt for påvirket. Det er simpelt, syret og støjende, men på en måde, hvor man er en træt af, at nummeret ikke er længere end blot 2.02. En helt perfekt åbner på et skævt album, der forbereder lytteren på de resterende 7 skramlende numre.
Jeg havde egentlig tænkt mig at gennemgå hvert nummer, men konkluderede at det ville være spild af din tid at læse, tid som jeg hellere vil anbefale dig, at bruge på at høre albummet. Dog skal det siges at førnævnte Outroo, samt Low, My Fix, Before Yours, A Dead Bird Can't Sing og Good Morning, har noget helt specielt over sig, og er højdepunkterne, på et stærkt udspil. The Fast Album er 100% Low-core, skramlet, beskidt, syret, rocket, skævt, underligt, men vigtigst af alt, er der en klar rød tråd, også selvom optagelserne af de forskellige sange er noget svingende.
Mads besidder en fantastisk vokal, er en god melodi-snedker og ikke mindst musiker, og selvom sangene kan virke simple, er de alle troværdigt og overbevisende skruet sammen. Jeg kan kun håbe på at Mads vælger at arbejde videre med The Fast Album, så der dukker en version op, der er knap så Fast. (Efter at have hørt albummet et par gange, fik jeg fornemmelsen af, at hvert sang sagtens kunne være tilegnet en ugedag, startende søndag, som sluttes af med manér lørdag, med to sange).
Mads Aarby – The Fast Album
1. Outroo
2. Daddy's Suid
3. Low
4. My Fix, Before Yours
5. Big Wave (Summerday)
6. A Dead Bird Can't Sing
7. I Am Over 8. Good Morning
Anmeldt af Bonde
Like GFRock på facebook og få nyheder om rock, rul, metal and the what have you – hver dag.