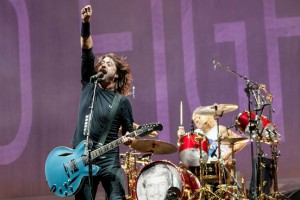 Foo Fighters spillede deres sidste koncert i lang tid, da de søndag aften lukkede årets Reading Festival. Dave Grohl dedikerede også en sang til Kurt Cobain og Krist Novoselic 
Bandet spillede en 2,5 times sæt, med en sætliste, der afveg meget fra deres 21-sangs koncert på Leeds Festival, fredag (24. august), denne gang blev det til ikke mindre end 26 sange.
Forsanger Dave Grohl fortalte publikum, at han følte, det var en særlig aften, og at det markerede afslutningen på bandets turné for deres seneste album "Wasting Light". Tidligt i sættet, sagde han: "Well, well, well. The fucking Reading festival. You guys realise we've got a lot of songs to play. It's the last show of the tour and it's the last show for a long time."
Grohl var i en reflekterende stemning, og dedikerede "These Days" til sine tidligere bandmedlemmer i Nirvana, Kurt Cobain og Krist Novoselic. Før han spillede bandets seneste single, sagde han til publikum: "I'd like to dedicate this song to a couple of people who couldn't be here tonight. This one's for Krist and this one's for Kurt."
Grohl havde også sine to døtre Violet og Harper på scenen, og dedikerede "Walk" og "Monkey Wrench" til hver af dem. Udover dette, dedikerede han hele sættet til Miti Adhikari, en BBC ingeniør, der har arbejdet sammen med Grohl adskillige gange, og som nu er pensioneret.
Grohl's bandmedlemmer fandt også tid til at rose ham, Taylor Hawkins fortalte publikum, at han var begejstret for at være på scenen med "den største musiker i denne generation." Grohl reagerede ved at fortælle publikum" cheekily" at han ikke er tosset med en sådan opmærksomhed.
Sættet trak referencer fra hele bandets karriere, og inkluderede hele syv numre fra deres selvbetitlede debutalbum, herunder de sjældent spillede "Exhausted" og "Alone + Easy Target". Det blev også til en meget sjælden live-version af "Winnebago", som findes på "Pocketwatch", et kassettebånd Grohl indspillede før Foo FIghters.
"First time we ever played here, we played in the tiny tent and it was the hottest show we ever played. They asked us to headline and we said 'No! We don't to headline the first time we ever play in England'. This was the first song we ever played", fortalte Grohl om "Winnebago".
Der havde floreret rygter i løbet af dagen, om at Grohl ville markere 20-årsdagen for Nirvana's optræden på Reading Festival, det skete ikke, men tilgengæld blev det til en historie om dagen, og som det skete for 20 år siden, blev der igen sunget fødselsdagssang for Grohl's mor. "In 1992 when Nirvana played here, the last show we ever played in England, you sang happy birthday to my mom. Here's your chance."
Sættet, som også omfattede en coverversion af Pink Floyds "In The Flesh?", endte med en fantastisk version af "Everlong" og selvfølgelig fyrværkeri.
Foo Fighters spillede:
'White Limo'
'All My Life'
'Rope'
'The Pretender'
'My Hero'
'Learn To Fly'
'Arlandria'
'Breakout'
'Cold Day In The Sun'
'I'll Stick Around'
'Walk'
'Generator'
'These Days'
'Monkey Wrench'
'Hey Johnny Park!'
'Alone + Easy Target'
'Bridge Burning'
'This Is A Call'
'In The Flesh?'
'Best Of You'
'Times Like These'
'Winnebago'
'Wattershed'
'For All The Cows'
'Exhausted'
'Everlong'
Kilde: NME.com