Torsdag d.29. november kan du opleve hele to danske bud på, hvordan den amerikanske musiktradition kan lyde, når J.Tex & The Volunteers og The Haunted Brothers går på scenen på Råhuset – samtidig.
J. Tex & The Volunteers udgav d.29 oktober albummet House on the Hill, mens The Haunted Brothers har en EP på vej, som kommer i starten af 2013, deres første udgivelse siden debuten i 2008. Begge bands har rødder i americana, så man kan forvente en god blanding af roots, folk, country, blues og rock på torsdag. Begge bands vil bogstaveligt talt være på scenen samtidig, hvor der vil blive leveret numre fra begge bands.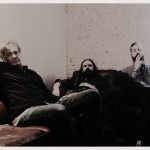 Koncerten starter kl. 21 og det koster 50,- at komme ind.
Læs mere om J.Tex & The Volunteers på deres hjemmeside. Du kan læse mere om The Haunted Brothers på deres facebookside.
Like GFRock på facebook, og få nyt om rock, rul, metal and the what have you – hver dag!