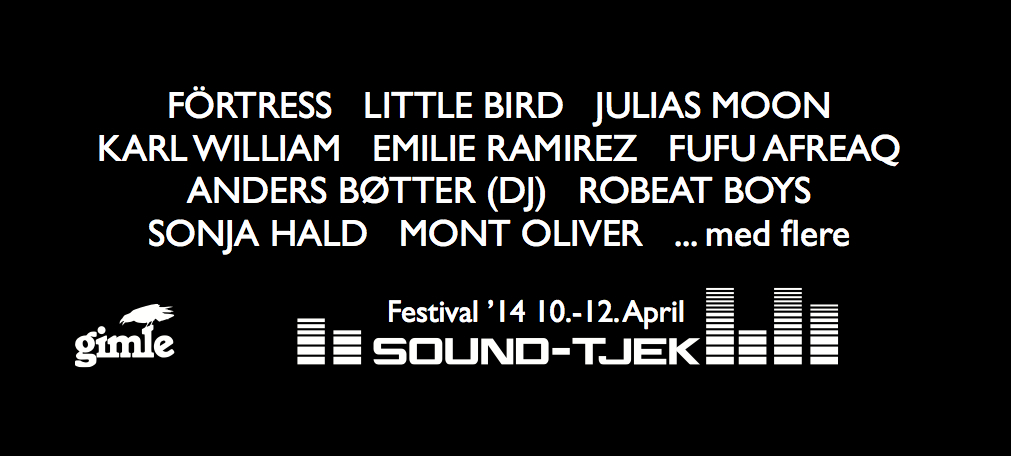 Den mindre festival i Roskilde, der afholdes 10.-12. april, er klar med nye tilføjelser til allerede annoncerede Förtress (der også gæster den store Roskilde Festival) og Little Bird.
Festivalen på Gimle er med egne ord mere end blot et one night stand. Booking gruppen (der opererer på frivillig basis) omkring Sound-tjek, der efterhånden har eksisteret i 7 år, går op i at følge de optrædende kunstnere i tykt og tyndt, også efter festivalen. De kalder det selv en slags lille familie, der stille og roligt vokser sig større og større fra år til år.
Men lad os komme til det musikalske trug og mæske os, de nye navne er: Julias Moon, Karl William, Mont Oliver, lokale Emilie Ramirez (med band), Fufu Afreaq, Robeat Boys, Sonja Hald og Anders Bøtter (DJ).
Det giver indtil videre følgende spilleplan til Gimle Sound-Tjek festival 2014:
Torsdag (Gratis)
Debat
Mont Oliver
Fredag
Sonja Hald
Förtress
Anders Bøtter (DJ)
… med flere.
Lørdag
Little Bird
Emilie Ramirez
Karl William
Julias Moon
Robeat Boys
Fufu Afreaq
… med flere.
Priser: Torsdag er gratis, fredag og lørdag 100 kr. pr. dag, eller 150 kr. for begge samlet. Studerende, frivillige fra andre spillesteder og festivaler kan købe billet til halv pris. Køb billetter HER
Den om torsdagen programsatte debat bærer titlen "Er god musik godt nok?". Debatten går ifølge Gimle Sound-tjek ud på:
"Skal man have et kæmpe netværk, et image, en speciel lyd, kende bloggere eller anmeldere etc. for i dag kommer gennem larmen og nåleøjet hos P6, P3, bureauerne, festivalerne og bookerne – eller er god musik godt nok? Paneldetagerne inkluderer blandt andre Esben Marcher (ROSA, SPOT Festival) og Marc Facchini (Mother Lewinsky, Mescalin, baby, Little Bird og senest solo)".
Så mon ikke det var en god idé, at slå et smut forbi Gimle i Roskilde 10.-12. april og se hvad de nyeste medlemmer af Sound-tjek "familien" disker op med?
Giv de offentliggjorte navne et lyt på Sound-Tjek's playliste
Gimle Sound-Tjek på Facebook finder du HER og begivenhed for festivalen 2014 HER
Af KDT
Like GFRock på facebook, og få nyt om rock, rul, metal and the what have you – hver dag!