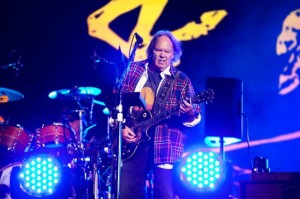 Bla. Foo Fighters' Dave Grohl og The Black Keys' Dan Auerbach joinede Neil Young & Crazy Horse på scenen ved Global Citizen Festival i New York.
The Global Citizen Festival, der fandt sted i Central Park i lørdags, var en fem-timers festival med koncerter af bla. Foo Fighters, The Black Keys, Band Of Horses og Neil Young & Crazy Horse, der lukkede og slukkede.
Foo Fighters spillede et hit-besat sæt, som omfattede "Learn To Fly", "Best Of You" og  "My Hero", mens The Black Keys spillede et hårdtslående 60-minutters sæt, til stor glæde for publikum.
Senere, da Neil Young's koncert nåede til et klimaks, kom medlemmer af bla. Foo Fighters, The Black Keys, Band Of Horses på scenen, og joinede Neil Young & Crazy Horse på en udvidet version af den canadiske sangerens "Rockin 'In The Free World" – se videoen nedenfor.
Singer-songwriter John Legend overraskede de 60.000 fremmødte publikummer, da han uanmeldt troppede op, og spillede John Lennons "Imagine", få hundrede meter fra stedet hvor den tidligere Beatle blev myrdet.
Festivalen var planlagt grundet et møde i De Forenede Nationers Generalforsamling i New York i næste måned, og arrangørerne brugte en innovativ tilgang til fordelingen af billetter. Fans der ønskede en gratis billet skulle melde sig til globalcitizen.org og optjene point ved at se videoer om fattigdom, malaria, børnedødelighed og andre globale problemer.
Mere end 71.000 mennesker havde meldt sig til hjemmesiden, hvilket resulterede i mere end 3.5million sidevisninger. Det er rapporteret at 60.000 fans fik gratis billetter til arrangement i Central Park.
http://youtu.be/TEdBA-wxIdY
Kilde: NME.com
Like GFRock på facebook og få nyheder om rock, rul, metal and the what have you – hver dag!