Tyske The Blue Angel Lounge er lige ankommet fra hjembyen Hagen, da vi får en snak med dem i Backstage Village, nogle timer inden deres koncert på Pavilion Junior fredag nat. Det følgende er et kort uddrag af interviewet, på engelsk. Under interviewet kan du læse en live-reportage.
So you just arrived? This is your first time at the Roskilde Festival?
-Yeah, we are very excited. It's our first time at Roskilde, and actually it is also the first time we're playing an open air festival. We're really looking forward to do this. We'll see how it works out, it's a different experience.
So what do you expect from playing in Denmark? You've visited Copenhagen before.
-Yeah, twice. We're really looking forward to see what happens. Of course, playing a festival is different. A lot of people will hear you, who are maybe not into your music, so it's a good opportunity to get new fans and play for a big crowd.
-We played a goth festival in Leipzig some weeks ago, and it was the same feeling we had, we really don't know what to expect.
-We've played the Austin Psych Fest two times, and it has a really cool vibe, the whole experience… but we don't count ourselves as part of the scene. We've played there two times now, and maybe it's time to take a break and come to a festival like this and meet other people, instead of playing again and again for the people who know you.
So you don't see yourselves as part of the whole psych-scene? How would you define your music?
-It's like having two different parents, living in a broken relationship. On the one hand we really appreciate it, being part of a particular scene, along with people who have a common way of thinking about music, on the other hand…we put out one record, and then people put you in a genre.
-The question is not whether you are psych, or shoegaze, it's if you manage to put in something new. Then it doesn't matter what you call it.
-That is maybe exactly the problem with the psych scene, because a lot of the bands are aiming for the same sound. We don't feel we are part of that right now. We like to mix all our kinds of interests.
-It also has something to do with selfconscience. When you start a band, you orientate towards many other bands, but somehow, after some years, you have progressed and you build up a selfconscience and think, "Well, it's not all that bad what we do". You don't have to look up to people that way. You can watch them on the same level.
How about your concert performance, is it dependent on being indoors?
-We don't really know that, as we haven't really tried. But we're glad we're in a tent, and that we're playing pretty late.
-There will be some cloudy projections, but we don't know if it will work out. We haven't done it before.
-We're so minimalistic. We're just rock'n roll dudes. We don't like it if it's too colourful on stage. Not every band from Germany is like Rammstein. We don't bring fireworks or a chainsaw…
-Maybe we should, you know.
-No, I think we'll keep it simple, the necessary light, a lot of smoke, I hope, and a little projection maybe.
Have you planned anything special for tonight, are we going to see your usual show and usual set?
-Maybe we will get naked (says the guitarist with a smile).
-We have prepared a set with songs from our first two albums, but also some new stuff from our upcoming album. Actually, there is one of the songs we will be playing for the very first time. It has a working title named after a very special german dish. "Schnitzel". Some of our songs have some pretty weird titles. Maybe this will end up being called "Schnitzel mitt pommes".
-We're working on a new record, our third, maybe it will be ready in the fall, or early next year, we hope we will be able to achieve that. We've had some pretty good sessions, but maybe we need a couple more songs.
The interview continued for a further 20 minutes circling the Psych scene, musical creativity and genre labels, but due to time pressure, the interview has been shortened.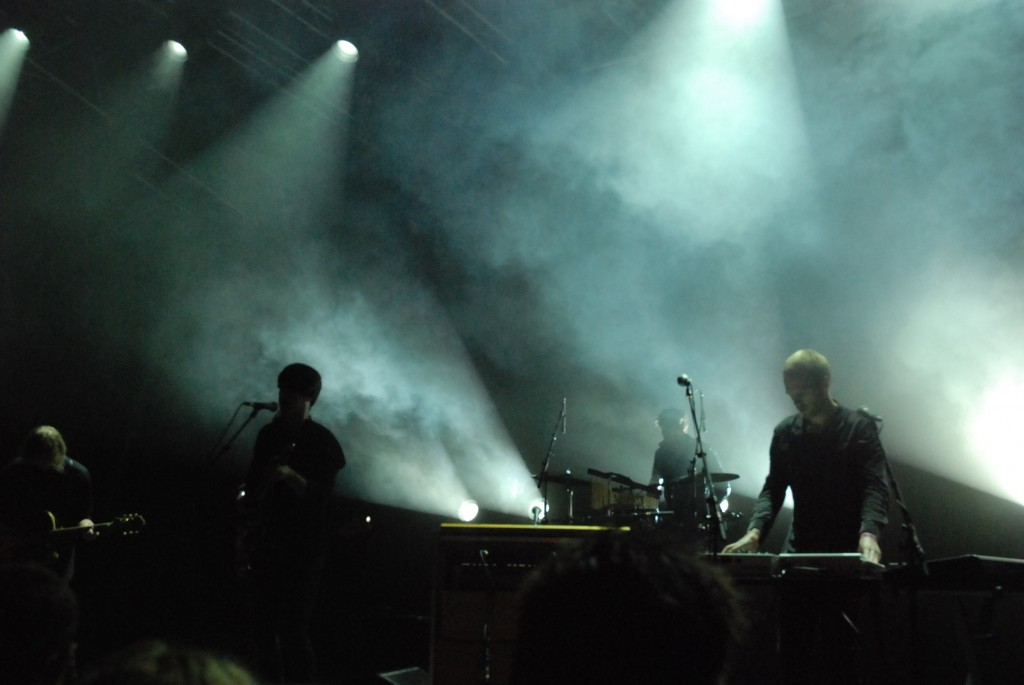 Koncerten
The Blue Angel Lounge fik fornøjelsen af at lukke Pavilion scenen, mens Volbeat holdt fadølsfest på Orange. Det betød at fremmødet ikke var overvældende under teltdugen, men dem, der kom fik til gengæld en rigtig fin koncertoplevelse.
Godt nok kan The Blue Angel Lounge's musik give mindelser til blandt andre Interpol og flere af de 80'er bands, der har inspireret amerikanerne, så viste de denne sene nattetime at de også er andet og mere. Nils Ottenmeyer's dybe vokal står godt til de mørkrandede toner, og det er især værd at bide mærke i tyskernes trommespil, hvor taktslagene holdes med stortam i stedet for stortromme.
Undervejs i sættet bliver der også eksperimenteret med mere mellemøstligt klingende toner, med percussion og keyboardflader, der på skift tager styringen i tyskernes dunkle univers. Eksemplificeret på den afsluttende 'Winter', der med sine synthklange og stærke melodi vokser langsomt i intensitet, inden Nils Ottenmeyer abrupt forlader scenen, kort efter fulgt af resten af bandet.
Tågen og lyset fungerer fint og passer til The Blue Angel Lounge's mørke udtryk, som sagtens kunne have fortjent et større publikum denne sene nattetime.
The Blue Angel Lounge kan opleves i Danmark igen i oktober, hvor de er hovednavn til Aarhus Psych Fest. Det kan anbefales at lægge vejen forbi og opleve tyskerne.
Foto + tekst: Judas
Like GFRock på facebook, og få nyt om rock, rul, Roskilde and the what have you – hver dag!