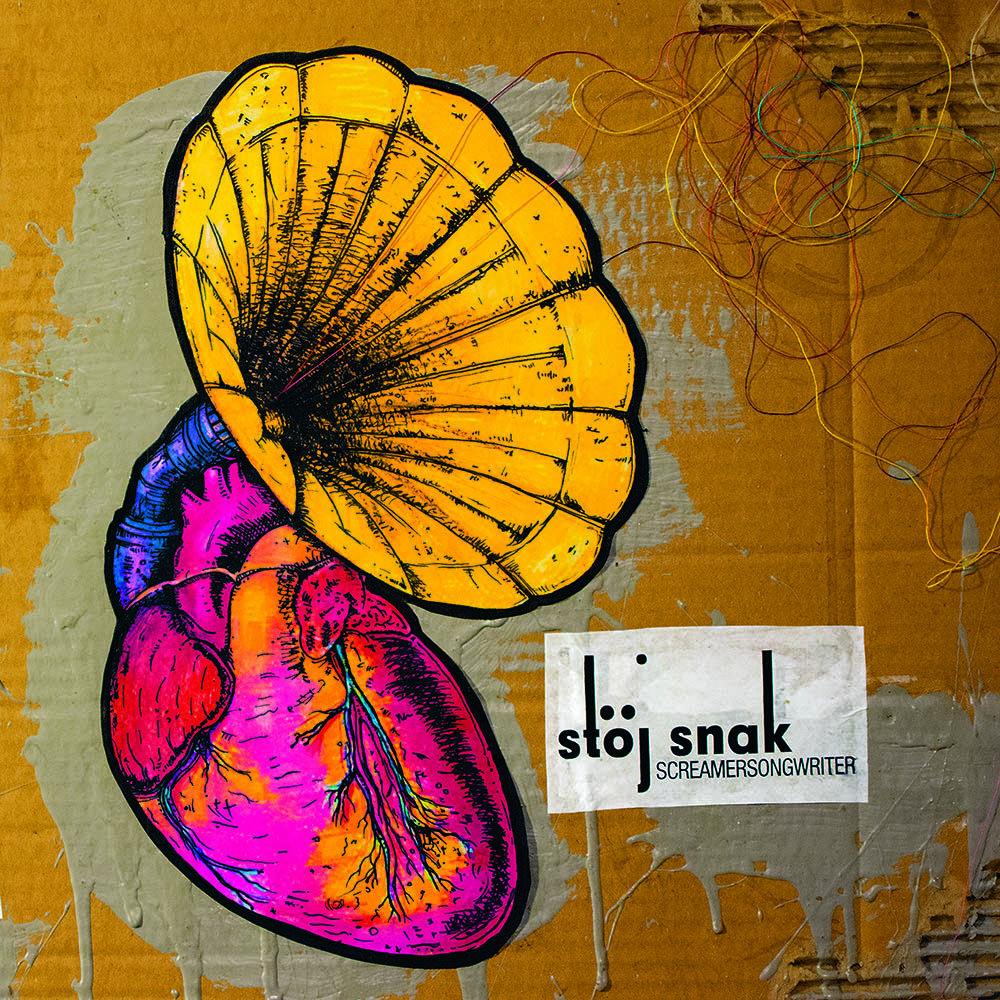 Folk punk eller punket folk? Ét eller andet sted i det felt finder vi Stöj Snak. Der er tale om akustiske instrumenter og teksterne skråles i bedste punk-stil.  Det bliver til tider lidt anstrengende, men da projektet har masser af humor og generelt fremstår sarkastisk og humoristisk, hælder det faktisk i retning af at fungere på glimrende vis.

"Cause if we've never been so rich / The question is why are we feeling so poor *cuts to cazoo solo*" som er en form for refræn på nummeret 'Spoiler Alert' illustrerer det egentlig meget godt; en ret alvorlig samfundskritik bliver 'pillet lidt ned' af et lidt barnligt udtryk.
Og på samme vis er der også elementer af Spike Jones på 'Old friends and Irish coffee', der byder på en tur med woodblocks og jødeharpe – og næsten båthorn? Eller et fantastisk breakdown i 'Laughter brings people together but nobody wants to fuck the funny guy'…. for slet ikke at nævne 'Privacy is a crime', som vist nok handler om at huske at slette sin browserhistorik – eller er det måske mere alvorligt og handler om, at vi jo overvåges konstant?
Der er også fine ballader, især i 'Lullaby', som starter lidt for pænt, men faktisk udvikler sig til en hæderlig power-ballade som fungerer fremragende. Men vi rykkes også rundt i den mere ordinære punk. Som 'Fuck', der vist ikke er voldsomt sofistikeret, men også numre, Bad Religion kunne have skrevet – især eksemplificeret i 'White male middle-class blues' og 'Hu-men', hvor sidstnævnte både i melodi og tekst minder om amerikanernes univers: Omkvædet går i hvert fald "Let's start acting like humans / before we kill ourselves!"
Stöj Snak har netop denne dualitet hele vejen igennem. Med enkelte undtagelser, så er teksterne væsentlige nok og tager nogle alvorlige emner op – men sørger med stilen for, at det ikke 'knækker over' og bliver for meget. Og der er egentlig masser af apati og sarkasme – som tidligere nævnte 'White male middle-class blues', der efter at have rettet en sønderlemmende kritik mod forbrugersamfundet lakonisk bryder ned og tilstår, at "here's another song to cheer you up". Så har vi da dét…
Stöj Snak er lidt svært at få skovlen under på ScreamerSongwriter. For man BLIVER uvægerligt lidt træt af punket overdrive-skrål. Men det fungerer virkelig godt, her og der. Melodier, spilleglæde og tongue-in-cheek rammer med grov charme ret godt plet mange gange. Og det er altså svært ikke at sidde med et smil på læben, når der gives fuld gas på vaskebræt og jødeharpe.
Projektet kan på en måde anskues som folk – og på sin vis have sin egen ret som sådan. Afslutningsnummeret kunne det eksempelvis næsten have været Neil Young, der havde skrevet. Det gør også, at ScreamerSongwriter er en plade, jeg faktisk kunne finde på at finde frem igen. Især, hvis jeg skulle få behov for at vise nogle bekendte, hvordan man kan lege med musik og gøre det levende, humoristisk og anderledes.
Og dermed bliver det en plade, der irriterer mig, men som er spændende og provokerende nok til, at jeg faktisk har respekt for det, jeg ikke kan lide – det honoreres med fire stjerner.
Af Troels-Henrik balslev Krag
Besøg Stöj Snak på facebook