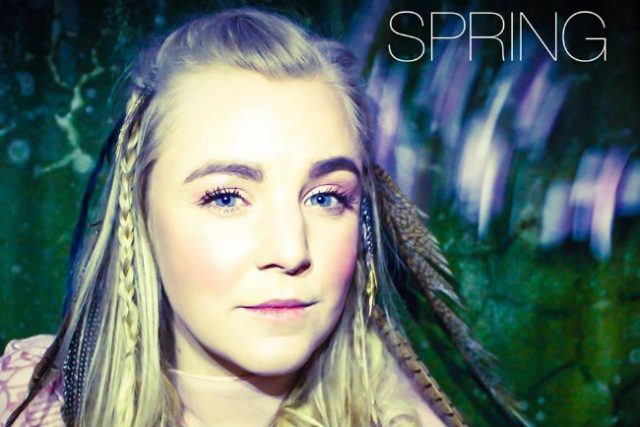 Rebekka Thornbech er blandt landets fremmeste eksponenter for country/bluegrass. Det viser hun igen med Spring, som er første led i en udgivelseskvartet, A Year In a Life, der tager udgangspunkt i årstiderne. 
Rebekka Thornbech hørte vi sidst fra da hun for to år siden udsendte det fine album, Wanderlust. Dengang gik hun all in på bluegrass og country, og på hendes nye projekt, en række EP'er inspireret af årstiderne, er vi stadig i samme musikalske landskab.
Tre numre er der at finde på Spring og ganske passende er tonen relativt lys og let. Vi er ovre den mørkeste tid, lyset og energien vender tilbage, og på 'One of These Days' er optimismen og håbet til stede i Thornbech's fine vokal. "One of these days I'm gonna find the strenght to do it all again//soon it will fall into place", lyder åbningslinierne, og som jeg hører nummeret, handler det om at have gået gennem en mørk tid, for nu at være tæt på at føle sig ovenpå og klar til at møde verden igen. Som på Wanderlust er vokalharmonierne gennemgående en nydelse og flot udført, også på 'One of These Days'.
'Shine', som følger efter, er ikke nær så fængende og fjedrende, men mere melankolsk, og også mere forglemmelig – Thornbech er bedst når vokalharmonierne leveres på en boblende musikalsk bund. Det gør de igen på EP'ens tredje, og sidste, nummer, 'A Heart Wide Open'.
Her kan udtrykket en gang i mellem minde om åndsbeslægtede Northern Assembly, men Thornbech holder sig alligevel tættere på bluegrass, og i den genre har jeg ikke kendskab til danske navne, der er på samme niveau evnemæssigt.Thornbech og hendes backing kor og musikere er simpelthen bare grundlæggende dygtige til det, de gør.
Det man så kan savne på Spring er at der bliver leget en smule mere med formlen – der er ikke noget, der overrasker eller udfordrer. Det samme var i det store hele tilfældet på Wanderlust. Det kan være det kommer på de næste kapitler i udgivelsesrækken. Og dygtigt skrevet, sunget og indspillet, det er det altså uden tvivl på Spring, der nok er værd at bruge godt 10 minutter på, at komme i forårshumør sammen med.
Du kan finde Rebekka Thornbech på Facebook.
Anmeldt af Jonas Strandholdt Bach