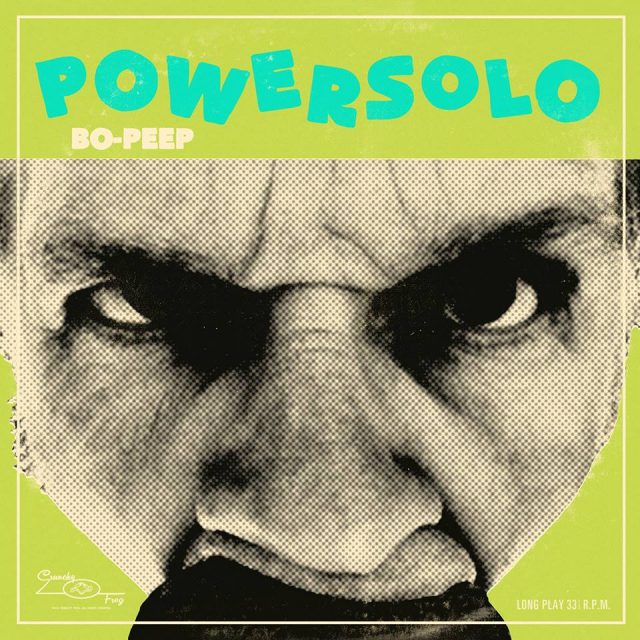 Kim Kix goes "Nebraska" on your ass on first Powersolo releases without Atomic Child.
For the uninitiated, Powersolo is one of Denmark's most treasured and reviled danish groups of the modern era. Until earlier this year the name was mainly associated with Kim Kix and his younger brother Bo (aka the Atomic Child) and then Powersolo bid farewell to Bo earlier this year. Powersolo promptly resumed its frantic touring schedule and we get not one, but two records- both brashly with "Bo" in the titles because; Powersolo.
I doubt this review will persuade many people to re-assess their love or absolute repulsion of this man. Most die-hard fans (and there are many) have already made their minds up and are busy lubing their orifices for the violation of this bunker of new material. On the other hand, some people I've met hate this music so much that they might place bulk orders just to destroy copies of this atrocity. I'm not on the fence though. I'm on the team.
I'm going to tell you what you probably already know: this is a bizarre collection of home-recorded garage/psychobilly weirdness from a middle aged Danish man who was raised in Tunisia. It's not the kind of music you want to throw on the deck for a cozy night in with your new sweetheart. It's more the stuff you stick on when you've come home from a night of drinking absinthe with sailors and stealing cigarettes out of parked cars.
For these efforts, Hr. Kix allegedly absconded to his west coast bolt-hole in Hvide Sande and locked himself away with an 8-track and his one-man-band setup from his "Hank Robot" persona. He says (via Facebook) that "Hvide Sande is one of the most beautiful places in the world…". See- I told you he was bent, eh?
What came from this transcendental writing and recording session born out of isolation? Something like Springsteen's Nebraska? Bon Iver's "For Emma…"? maybe if you left those records out in the sun and played them at the wrong RPM on your gramps' Victrola.
"Peek-A-Bo" serves as a 4-song amuse bouche for the releases. "Possessed by Bo Diddly" is a straight up rockabilly affair with jabs of unintelligible vocals awash in slap-back. "Mungle In The Jungle" is an exotica/lounge Hawaiian bossa nova that of course self-references Powersolo with a few stabs of psycho riffage.
"Chronophobian Waltz" is another woozy monologue set to a drunken motel ballroom waltz – this time featuring some diddles on the mandolin while a lazy slide guitar falls off the rails in the background. The EP is run out by straight-up rocker "I Need To Know Honey", a classic lover's fight song. It's clear from the get-go that this new offering from Powersolo is possibly even more raw and bizarre than the previous offerings so far this decade. Home recordings by a lunatic that actually knows what he's doing. Take heed kids: TRY THIS AT HOME, not in front of your friends where everyone can see you.
On "Bo-Peep"'s 13 tracks however are where Kix really spreads his wings. If "Peek-a-Bo" was the foreplay – this is the bounding and gagging tango. The needle drops on "What'd She Say" – another classic garage romp, tinged with farfisa sounding keys – again, unintelligible gibberish maybe, but one man's trash, eh?
We continue into the lead-off single "Ana Bhebak" (I love you, in Arabic). This cut serves as a loving tribute to Kim's spiritual and actual homeland of Tunisia. Kix recently returned with a documentary film crew in tow for a sentimental visit. I wonder what the locals thought? This prodigal son continues with the appropriately titled "Back In Town" – a sinister sounding western tinged surf number.
More spoken word ramblings over garage tumbles out with "Fifteen Minutes" and "Absinthe" before returning to classic Powersolo odd-ness "Lonely Gal". A trilogy of more intelligible rockers, "Try Another Town", "Miles Around" and "Los Angeles" fill out the more straight-ahead middle section of the LP. The last quarter of the record serves to get a little weirder with "The Box" (where we hear a marble-less Kix ramble for several minutes about what is literally inside a box) and field-recording lead "Railthin Brothers Theme" (instrumental nod to the stage show with Atomic Child).
The record finishes with the surprisingly tender (for Powersolo) "When She Falls". Possibly a love song for a tranny – again, hard to tell.
Fact of the matter is: I hope when one of the scumbags with access to nukes pushes the button and all of the really average electro-pop, indie, post-punk revivalists, shoegaze imitators and waxing poetic singer-songwriters are evaporated or eaten – that Powersolo emerge from underneath a Volkswagen van with 17 psycho garage songs about absolutely nothing relevant. We'd have a big party, get drunk and light cigarettes off burning trash. These are the kind of records that we need.
Powersolo is a genuinely weird band – not just some kids trying to be weird as a hobby. This might be the rawest and consistently in-consistent Powersolo record I've heard. Old fans are going to dig it, new ones are going to dig it, your girlfriend is going to tell you to turn it down because she's got to sleep and get up for work – but you don't care tonight. You just don't care. Do not go gently into your own dark light.
Peek-A-Bo is out 13/4 on Crunchy Frog, "Bo Peep" to follow. Pre-order bundles via Powersolo's Bandcamp page or ask your local record pusher to stock them!