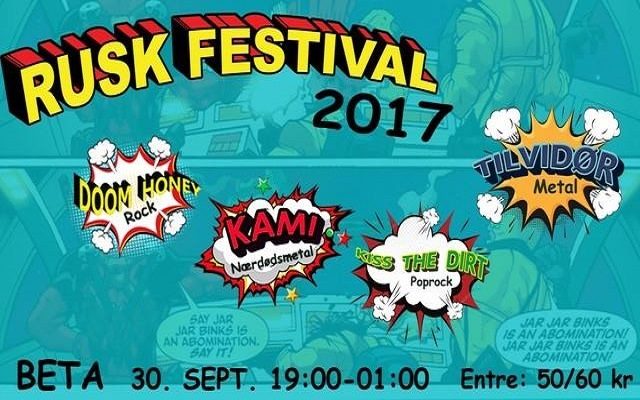 Lørdag d. 30/9 er der fokus på upcoming musik på Beta, når der igen afholdes Rusk Festival, hvor 4 bands fra den lokale øvelokaleforening indtager scenen. Her kan du vinde billetter og en bajer til løjerne.
Programmet lørdag d. 30/9 på Beta er ganske alsidigt og byder på lidt for enhver smag, eller så meget forskellig smag 4 navne nu kan dække.
KISS THE DIRT bevæger sig i et melodisk grænseland mellem pop og rock, der folder sig ud som melankolske og storladne lydbilleder. Synthflader bevæger sig under akustiske trommer, elektrisk guitar og et skarpt kor, som støtter sikkert op om frontmand Kenneth Neflings nærværende og følsomme vokal.
TILVIDØR spiller metal, der ikke mindst trækker på genren thrash. Navne som Black Sabbath, Slayer og Machine Head er blandt inspirationskilderne, men musikken er også farvet af andre udtryk fra metalmusikkens brede palet.
KAMI er leverandører af det, de selv benævner nærdødsmetal. Musikken er funderet i death metal, hvor tråde til doom og mere klassisk metal også har sat sit præg på lyden. Bandet har rumsteret en del live allerede og har blandt andet delt scene med navne som Saturnus, Orm og Slægt.
DOOM HONEY er en duo bestående af en bassist og en trommeslager, der blandt andet er inspireret af legendariske rocknavne som Led Zeppelin og King Crimson. Bandet bevæger sig omkring et beat/blues/rock'n'roll orienteret udtryk tilført psykedeliske, sfæriske passager.
Lyder det som noget du godt gad tjekke ud og er du også lidt tørstig, så udlodder vi her (i samarbejde med Musikforeningen Rusk) 2×2 biletter + en fadøl til hver. Alt du skal gøre, er at besvare nedenstående grotesk svære spørgsmål og sende svaret til gfrockdk@gmail.com inkl. kontakt oplysninger senest onsdag d. 27/9 kl. 12.00. Skriv konkurrence i emnefeltet.
Spørgsmål: Hvad hedder øveforeningen de 4 bands der optræder denne aften er en del af? A) Snusk B) Fusk eller C) Rusk
Læs mere om arrangementet på Facebook.
Om Rusk: En musik- og øvelokaleforening, der arbejder for at styrke musikmiljøet i København. Foreningen administrerer 17 øvelokaler på Øresundsvej 6, Amager (ved siden af spillestederne BETA og Amager Bio) og er engageret i en række festivaler såsom UHØRT, Kulturhavn og Festival of Endless Gratitude.
Rusk yder også hjælp til upcoming musikere bl.a. som led i RUSK Festival. Her udpeges hvert år en række bands til et coachingforløb, hvor de lærer at promovere sig med større succes og styrkes i live performance, således at de leverer en endnu mere intens og gribende koncert, når de går på scenen til RUSK Festival.