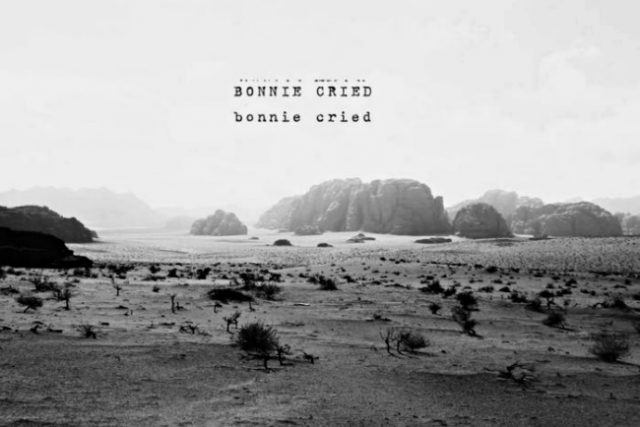 Bonnie Cried EP-debuterer overbevisende med beskidt, soul-blueset rock og en international lyd. 
Bonnie Cried er et internationalt sammenrend af et band. Bandet er stiftet i Aarhus i 2013 og tæller en newzealænder (Daniel Kittow), en amerikaner (Bobby McBride, som også ind i mellem skriver for GFR), en islænding og en dansker. Og så er debut-EP'en optaget i Øst-Berlin.
Der er da heller ingen dansk accent at spore på vokalen eller i den stilsikre opvisning i skramlet, men stadig melodisk, rock, med snerter af blues/soul, americana og punk. Skal vi starte med den konstruktive kritik, så får et par af numrene lov at trække lidt længere ud end nødvendigt (korteste nummer er på 3 minutter og 50 sekunder), og så er vi også i godt gennemtrawlede musikalske vande.
Når det så er sagt, så er der sgu bund i Bonnie Cried. Det svinger (med både enkelt og dobbelt v) fra åbneren 'Days of Youth' til 'I Don't Know About You' lukker. Og noget af det, Bonnie Cried er rigtig dygtige til, er at være melodiske uden at give køb på den rå lyd, som er en af EP'ens store forcer. Her kan man faktisk høre at Berlin-studiet ellers primært bruges til rockabilly og country-indspilninger.
Og så er det med melodierne. Et godt eksempel er den skramlede 'Ticket', med vokaleffekt, du ved, den slags, hvor det lyder som om forsangeren synger i en metaldåse, som alligevel fænger og sætter sig fast – og så er "huuh!" og "yah!" råbene sgu lige i skabet, sammen med det skramlede guitarspil. Sætter sig fast gør det andet oplagte "hit" på EP'en, 'We Were Lovers', som har en lidt anderledes vibe, og hvor vokalen flænser og flår følelserne frem på en ellers mere soul-blueset bund – titlen siger en del om den flossede sindsstemning, vokalen åbner for her: "As for that dirty town//I never will return//'Cause every bridge was burned down/Left no stone unturned//Everything is broken//I never wanted blood on my hands".
Helt så stærkt i billedet står den ellers ligeledes melodiske lukker, 'I Don't Know About You' ikke – den fremstår en smule mere blodfattig og pæn i kanten, omend der er også her er en ganske fin melodi på spil, der emmer af 60'er rock og der bestemt ikke er tale om et dårligt nummer.
Til gengæld fungerer det altså endnu bedre for Bonnie Cried når lyden bliver mere sydstats-beskidt, som på førnævnte 'Ticket' og 'We Were Lovers', men også til dels på midterskæringen 'Get Away', og åbneren 'Days of Youth', som emmer af western-stemning, øde landskaber, billig whisky og desillusion. Og igen, krydret med et omkvæd, der har melodiske kvaliteter.
Det er en ganske medrivende blanding Bonnie Cried har bikset sammen, og er du til amerikansk-klingende blues/soul rock, der ind i mellem også lyder som noget, der kunne ende på et Tarantino-soundtrack, så bør du tjekke bandet ud. Det giver et samlet indtryk af en stærkt eksekveret debut-EP, hvor der måske er en smule fedt, der kunne skæres væk, men hvor lyd, sangskrivning og den kompetente udførelse trækker det samlede indtryk op på 5 upcoming-stjerner.
Du kan finde Bonnie Cried på Facebook.
Af Jonas Strandholdt Bach