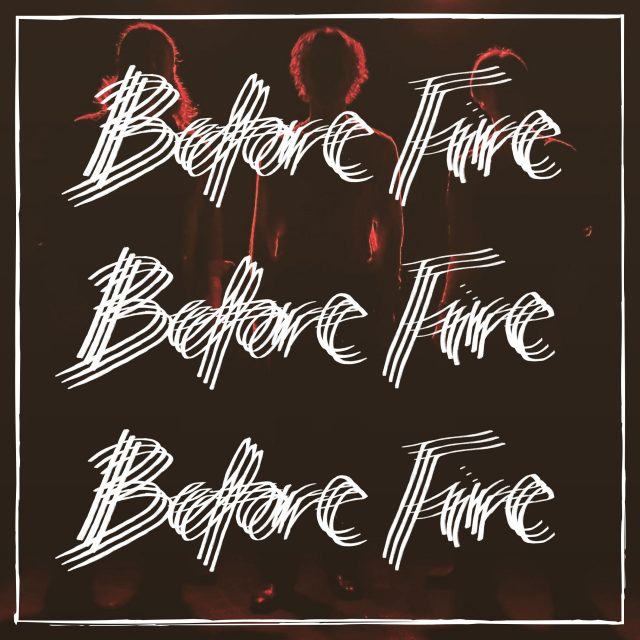 Rock. Velspillet, velproduceret og energisk rock. Det beskriver Before Fire og der er noget befriende over både at kunne erklære noget 'bare rock', men i den grad også over at lytte til EPen Before Fire.
Der er på én gang intensitet og luft i lydbilledet, og bandet kan tydeligvis både spille og producere. Et meget godt eksempel er soloen i åbningsnummeret, 'Risk It', hvor bassen spiller dump Fraggle Rock-bas på fjerdedelene, sologuitaren spiller solo – og rytmeguitaren i stedet for bare at fræse eller lægge lange akkorder kommer med små input, som vel kan kaldes 'supporting solo'. Det fungerer uforskammet godt og er en fornøjelse at lytte til!
Mange bands kunne lære meget af Before Fire i forhold til hvordan man laver en god lyd.
I en tid, hvor bands som Go Go Berlin flirter mere og mere med synths, er det bare super befriende at høre et band, der viser at rocken holder. Det er sammenligneligt med Velvet Volume – rock på rockens præmisser, med hooks og dygtighed.
Teksterne lærer man dog ikke så meget af – det handler vist nogenlunde over en kam om at knalde, gerne ville knalde uden at kunne komme til det og lidt bondeanger fordi man har knaldet lidt for meget – eller mange.
Helt eksplicit bliver det i uptempo-nummeret, 'Dead Eyes', hvor der desperat konstateres "I know I'm better off without you / but it makes me happy / when I'm inside you" og selv om det da på ingen måde udvidder horisonten hos lytteren at høre om hvordan fortælleren er vægelsindet om sit knalderi, så er det også bare sådan, at man hellere vil høre om nogle menneskers knaldehistorier, end andres. Og fordi sanger Mathias Bang Fischers vokal er både teknisk stærk og tilpas desperat, så får man faktisk lyst at høre om dét her. Også det er ganske skarpt!
Vi får fem numre på EPen og holder de kvaliteten på øvrige tracks, kunne der snildt have været dobbelt så mange og have været kaldt et album. Iblandt de fem er balladen 'Who's To Blame', der sejt groover sig derudaf og sender fraseringshilsner til folk som Jeff Buckley.
Pressematerialet fremhæver bandets inspiration for 70erne, men hvordan der også trækkes på 2000ernes teknik. Første nummer lyder som noget, Josh Homme kunne have fingrene i, midten er meget 70er-agtig og afslutteren, 'Are You Listening', kunne i hvert fald i første strofe være rundet af Roxette (!) og udvikler sig med ægte "svensker-claves" i klaveret i uptempo. Men det smager kun deraf. For Before Fire holder virkelig den røde tråd i lyd, produktion og vokal og får det bedste ud af de forskellige hints. Before Fire er på Before Fire bare rock, men gennemtænkt på lyd og udtryk og det bliver spændende at følge bandets videre færd!
Anmeldt af: Troels-Henrik B. Krag